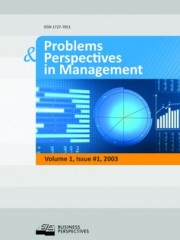 The international research journal "Problems and Perspectives in Management" is double blind peer-reviewed. It is published quarterly in Sumy, Ukraine and since January, 2017 supports full Open Access. The target audience of the journal includes researchers, scholars, lecturers, students, and practitioners.
Aims and Scope
The purpose of the journal is coverage of different aspects of management and governance, such as international organizations and communities' management, state and regional governance, company's management, etc. The key aspects of planning, organization, motivation and control in various areas and in different countries are subject of the journal's scope. The journal publishes articles, which are focused on existing and new methods, techniques and approaches in the field of management. It publishes contemporary and innovative researches, including theoretical and empirical research papers.
Key topics:
Organizations and Organizational Behavior
Decision-making Process, Criteria, Principles, Models
Information and Uncertainty, Econometric and Statistical Methods in Management
Data Collection and Data Estimation
Forecasting and Simulation at Macro- and Micro- levels
Business Administration and Business Economics
Firm Strategy and Market Performance
Company's Aims, Organization, and Behavior
Personnel Management, Conflicts, Negotiations
Technological Changes Management and Economic Development Management
Industries Management
Structure and Scope of Government
International Institutional Arrangements, Contracts, Security, Conflicts
Subject Area – Business, Management and Accounting. Subject Category – Business, Management and Accounting (miscellaneous).
Subject Area – Social Sciences. Subject Category – Public Administration; Sociology and Political Science; Law.
Subject Area – Decision Sciences. Subject Category – Information Systems and Management; Management Science and Operations Research.
More...