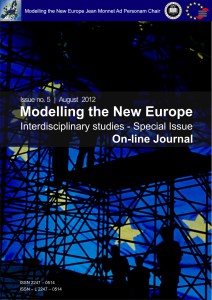 The Journal started in 2010 as an international publication accompanying the Jean Monnet ad Personam program, dedicated to subjects concerning Central and Eastern Europe. Since then, the publication overcame barriers in terms of the approached themes, scientific advisory board and peer-review academics, and together with the quality of the articles published, managed to obtain an increasing international visibility and recognition (http://neweurope.centre.ubbcluj.ro/?page_id=943 ).
The call for papers is opened to PhD students, young researchers, academic staff interested to promote and present different perspectives concerning the European Union, like the actual state of the EU after the Lisbon Treaty, the economic and Euro crisis, the future of the EU and any other subjects related to the "New Europe", including book reviews.
No fees are asked for the processing and the publishing of the materials submitted by authors.
At the beginning of every academic year, the titles of the thematic issues and the guest editors will be available on the website.
The Journal neither reflects nor represents any particular school or approach, nor does it restrict itself to particular methodologies or theoretical perspectives. Rather, it promotes interdisciplinarity and a greater dialogue between the various sub-disciplines of European Union analysis.
ISSN – L 2247-0514
The Journal is double blind peer reviewed by independent academics related to the line of study of the articles proposed
Starting with 2014, the Editorial Staff is looking forward to receiving your contributions four times per year.
Deadlines: 15th of February, 15th of May; 15th of August; 15th of November.
Please send your contributions to: miruna.balosin@ubbcluj.ro; gciceo@yahoo.com
More...